As the travel and tourism industry continues to grow, new changes and transformations are inevitable. As we are getting over from the impact of the pandemic, we are also witnessing a rise in the number of travelers. Safety while travelling is as important as it is to have a memorable journey. One of the easiest ways to achieve this is by opting for travel insurance. Travel insurance safeguards you from untoward circumstances like loss of baggage, flight cancellation, medical expenses during travel and other financial assistance.
There has been a considerable increase in the travel insurance industry. Most of the big insurance providers in this segment are offering travel insurance. The Indian travel insurance market was valued at over $ 80 million in 2018, with a CAGR of 12%. Eyeing it as a major growth sector, many new players are joining the league. Hence, it becomes important to make the right call when it comes to choosing the best travel insurance. But it is also providing an opportunity to buyers to opt for various platforms from where they can buy travel insurance.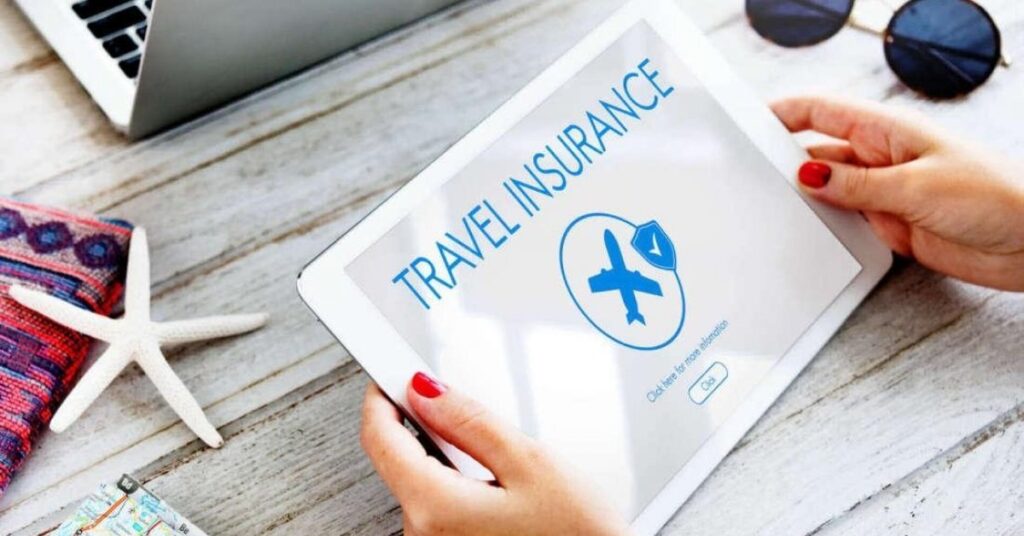 Where to Buy Travel Insurance from?
In the current scenario, there are three platforms from which you can buy travel insurance. These options are mentioned below:
Aggregator Platform – As an aggregator platform provides detailed comparison of various insurance schemes available, it becomes very easy for buyers to compare different schemes and buy insurance directly from the platform with additional privileges. Policy Player is one such platform from which you can buy an insurance policy after proper comparison of the best available insurance schemes.
Provider Platform – You can directly visit the website of an insurance provider and buy the insurance.
Offline – You can connect with an insurance agent and understand plan benefits and buy insurance through him/her.
Popular Names in the Travel Insurance Segment
Here are some of the prominent names that you can consider:
| | |
| --- | --- |
| Travel Insurance Provider | Travel Insurance Plans |
| Bajaj Allianz Travel Insurance Company | Individual travel insuranceFamily travel insuranceStudent travel insuranceCitizen travel insurance |
| IFFCO Tokio Travel Insurance Company | Online travel insurancePravasi Bhartiya Bima Yojna |
| Bharti Axa | Schengen Travel Insurance PlanAnnual Multi-trip Insurance PlanPre underwritten Insurance Plan |
| New India Assurance Travel Insurance | Suhana safar policyOverseas Mediclaim policy |
| Religare Travel Insurance Company | It provides travel insurance plan for Africa, Asia, Canada, Europe, and the US |
| Future Generali Travel Insurance Plan | It provides Future Suraksha plan for travel to Asia, Europe, and World Wide. It also provides travel insurance for students |
| HDFC ERGO Travel Insurance Plan | It provides travel insurance to individual and family. It also provides student suraksha policy. |
| Cholamandalam Travel Insurance Plan | Domestic Travel Insurance PlanOverseas Travel Protection PlanStudent Travel Protection PlanChola MS corporate Travel Insurance Plans (for regular flyers) |
Key factors to consider before finalizing a travel insurance provider
Compare the plans- Since there are umpteen options out there, choosing one can be challenging; hence it's always good to pen down a few names and then finalize the best one. Policy Player can be the best place to find the best options and compare them online.
Enquire about the medical coverage– An important aspect that you must add to your checklist is to see the medical coverage. Opt for a policy that provides higher medical coverage, especially when you are travelling to places like Australia, the US or the UK.
Compare the features– The travel insurance plans features and benefits may vary from one insurance provider to another; hence, before finalizing, you must check the features offered by the different insurance providers like flight cancellation, loss of baggage, loss of passport, etc.
Claim-rejection ratio– Another key parameter that you must take into account is the claim-rejection ratio. If the claim rejection ratio is higher, there is a greater possibility that you find it difficult to get the claims. Hence, make the right comparison and thorough study before the final call.
If you are travelling abroad, then it's important to consider a travel insurance plan. Whether you are a pro-jet-setter or not so frequent traveller, there is a travel insurance plan for everyone. All you need to do is find the right company that can provide the best travel insurance policy.