3rd party car insurance online coverage insures you against every 3rd party legal liability that might arise because of a mishap like a road accident that involves your car. It offers coverage for the 3rd party's death/injury (as decided by the court of law) & its property damage up to INR 7.5 Lakh. Wondering why do you require 3rd party insurance for the car? According to Motors Tariff Act (2002), this is compulsory for all vehicle owners in India to have the 3rd party car insurance, at least.
This policy offers the most standard coverage as well as is more inexpensive in comparison to an all-inclusive plan. Thereby, along with being a compulsory need, it is essential too for having your car insured by at least the 3rd-party only cover so that you have a minimum of standard insurance coverage for the car.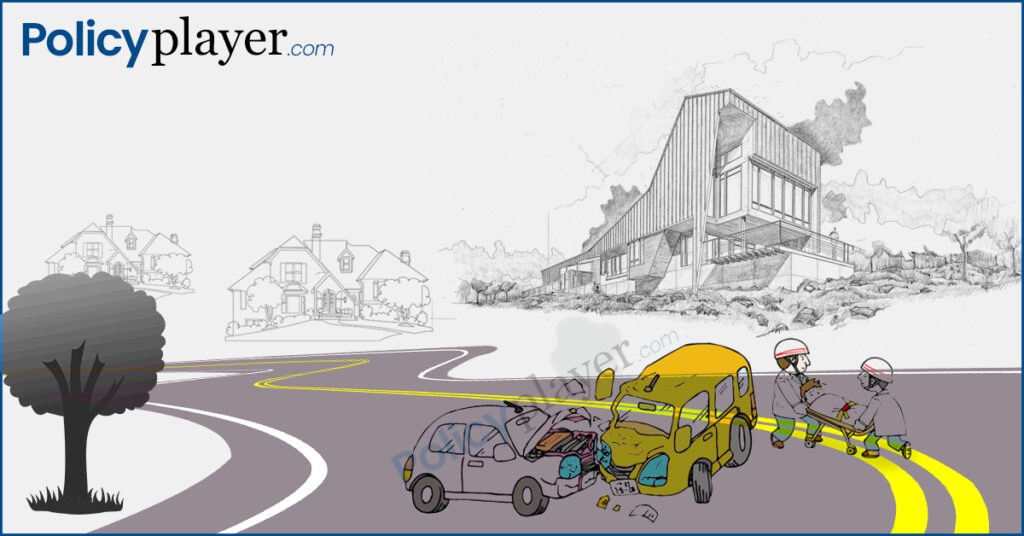 What is covered under the 3rd-party car insurance policy?
3rd-party bodily injury/death – Under the 3rd party car insurance online plan, the insurer offers complete compensation in case of the 3rd-party's demise & 50% indemnification in an event of a limb loss or partial blindness. The court of law decides the amount of compensation for 3rd-party liabilities.
3rd-party property damage – Every type of 3rd party damage is covered under the 3rd party only cover up to INR 7.5 Lakh.
What are the advantages to renew/buy 3rd party car insurance online?
Below-mentioned are the advantages of buying 3rd party car insurance online –
Peace of Mind – In an event of a mishap, there can be monetary pressure on individuals. In case the 3rd-party is involved in it, then it becomes more cumbersome. Through this insurance, you can stay assured that these liabilities will be covered.
It is Compulsory – 3rd-party car insurance is mandatory & in case caught without one, you may be punished, therefore, having this insurance ensures you abide by the law.
Less Premium Amount – The 3rd party car insurance online is accessible at quite affordable and low prices as well as proves to be quite valuable in times of crisis.
Easy and Quick procedure – You might wonder "how to avail 3rd party car insurance?" Now you can go online and make the most of this procedure which is simple as well as quick. Also, it gets finished in a quite short period. Moreover, you might buy the online policy according to your convenience.
How does 3rd-party car insurance work?
The process of claim settlement for 3rd party car insurance might be initiated through these below-mentioned steps –
Legal Representative of the victim or the deceased needs to submit the application against the car's owner for claiming 3rd party liability compensation.
Once you apply, the FIR should be filed with the police by the 3rd party car insurance's policyholder, describing details of the accident. Keep the FIR copy with the incurred expenditures by the victim for any future reference.
Afterwards, register the case with Motor Accidents Claims Tribunal.
Then, you can avail compensation for the whole expenses or the amount as directed by the court since there is no optimal capping of compensation that needs to reimburse to the victim or his/her family. In the 3rd party car insurance online, the maximum cover for property damage has been fixed at the maximum of INR 7.5 Lakhs by the Insurance Regulatory & Development Authority.
While driving, there is the risk of getting involved in an accident. It might result in bodily injury or also death in a few instances. Also, there is a possibility that there might be damages to the 3rd-party's property. Each of these liabilities might be conveniently covered with the 3rd party car insurance coverage. So, in case you are still thinking, "Whether or not I require 3rd-party car insurance?" then always remember that it is the most suitable way for procuring coverage against any damage or loss to 3rd-parties.